Originally constructed in 1906, the Fahrner Hof started as a cow barn for Lawrence Fahrner of St. Anton am Arlberg. His son Franz Fahrner married Herta Schneider, daughter of the world famous ski meister Hannes Schneider, in 1951. Together with Herta's brother Herbert who lived in the United States, they operated the Sport Haus Hannes Schneider and the Café Schneider in the center of St. Anton. In 1958 the Fahrner Hof was inherited by Franz Fahrner who continued its operation as a barn for his cows and sheep.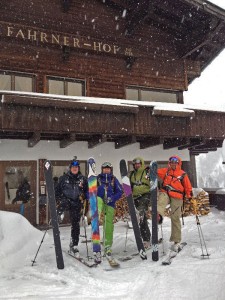 In 1976 the barn was torn down and the Fahrner Hof was constructed. The decision was made to make fewer apartments but have them be much larger in size than others offered in the area. To this day they are still some of the largest apartments available in St. Anton. Franz and Herta continued to operate the Fahrner Hof until Herta's death in 2001. At that time Herta's brother Herbert took over ownership and operated it until his passing in 2012.
Currently the Fahrner Hof is owned and operated by Hannes Schneider the grandson and name sake of the famous ski pioneer. Hannes is an avid skier spending his winters in St. Anton managing the Fahrner Hof and the remainder of the year living with his two sons in the United States of America.
Request Additional Information